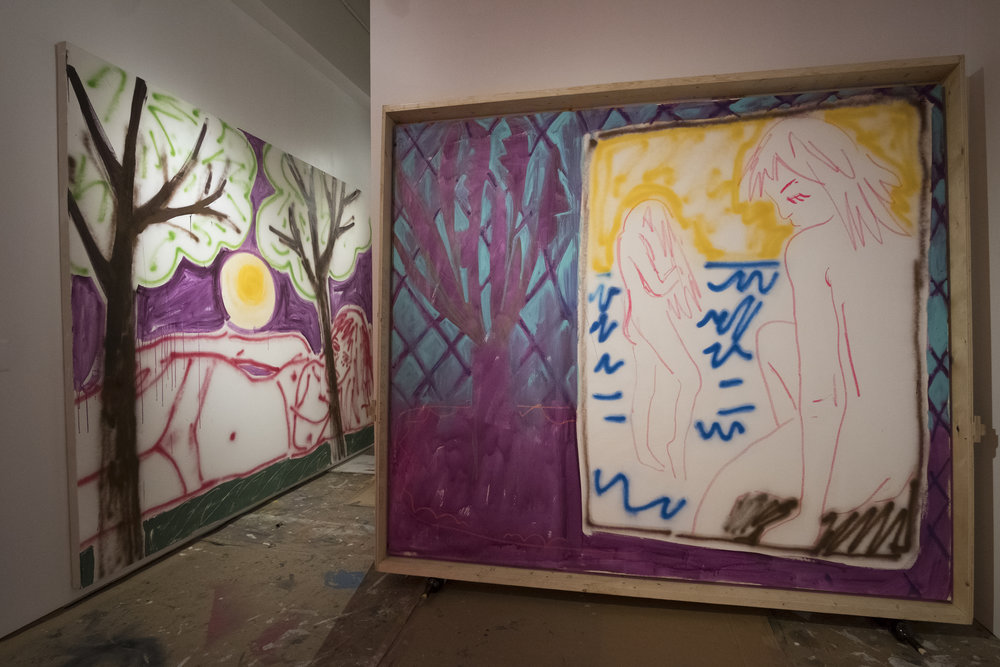 THRUSH HOLMES, PERSONAL WORK
DECEMBER 10, 2016 — JANUARY 28, 2017
Thrush Keats Byron Holmes is a Toronto-based painter who explores traditional artistic themes in an unapologetically contemporary, irreverently playful, aggressively energetic way. Romantic and idealistic, his naive forms (nudes, rainbows, still life florals) reference modernists like Picasso and Matisse, dissolving studies further into dripping, crude gestures of oil stick and neon light. One glance at his work and you'd assume the artist is as brash and bombastic as his ouevre, and yet Holmes is kind, soft spoken and tenacious. Entirely self-taught outside two weeks in art school - where he quit after being told he couldn't fast-track to his final year - Holmes' process mirrors his ambitions. 20-ft paintings are made in a single sitting, and the initials 'TH' are often large enough in the bottom corner of a piece to be considered a compositional element.
PERSONAL WORK is representative of what we've come to know from Holmes, and yet quite different. It is with this series that he reveals a vulnerability usually hidden in the guarded neon glow of dollar signs, cats, and daggers. Something of a 'breakup album', PERSONAL WORK draws from real life in a way generally reserved for performers and poets... and it works. A musician himself, the exhibition reads like an anthology; Holmes pulls imagery from iconic bands (Nirvana, Pink Floyd, Wu-Tang Clan); angsts out on fantasy, love, and loss; and retaliates against boredom via domesticity.
Starting a new chapter in his personal life, he has succeeded in creating a cathartic collection that adds nostalgia and introspection to an ongoing analysis of mythology, archetypes, and ego. The directness in which these feelings are revealed seems almost ironic in its simplicity, his in-your-face punk sensibility almost - almost - masking his sensitivity. Though the concept may be precious, Holmes' mark-making is confident and decisive, and the placement of neon strokes, reclining nudes and spilled glasses of wine are resolute.
Even his flowers have diverged: "The new ones feel more physical," he says, "I distilled the image to silhouetted forms, shifting focus to scale and composition. I needed a step forward." In examining the precursors to Holmes work, it is especially difficult when you realize that this mid-thirties artist has been honing his craft since the age of 18. Some have compared him to Mary Weatherford (though Holmes incorporated neon into abstract painting years before she did); and on the subject of florals/landscapes/reclining nudes, you could liken him to every artist ever to touch a paintbrush. It is in this latter comparison that Holmes proves his capability, because to lend modernity, edge and intensity to a vase full of flowers - that's something to shine a light on.

For more information or to receive a catalog of available works, please contact info@lscgallery.com.
 
THRUSH HOLMES
Thrush Holmes is an artist based in Toronto, entirely self-taught in painting and mixed media. His work is spontaneous and experimental, spanning imagery from reclining nudes, matisse-like flowers, and poetic landscapes that contrast with a punk sensibility. Holmes' paintings are made contemporary by their varied and inventive use of materials (spray paint, neon light, driveway sealant and oil stick), which elevate an aggressive exploration of romance and mythology. Holmes previous solo exhibitions include PULSE MIAMI courtesy of BEERS, London (2016) Heavy Panting and More at the Mike Weiss Gallery, New York (2014); VOLTA NY courtesy of Mike Weiss Gallery, New York; and group exhibitions such as What's Up 2.0 curated by Lawrence Van Hagen, BEERS London (2016). His work is found in permanent collections worldwide including the Elton John Aids Foundation, Sony Music, Dreamworks Studio, and Def Jam Records among others.

PRESS INQUIRIES
Sara Nickleson | Library Street Collective | info@lscgallery.com