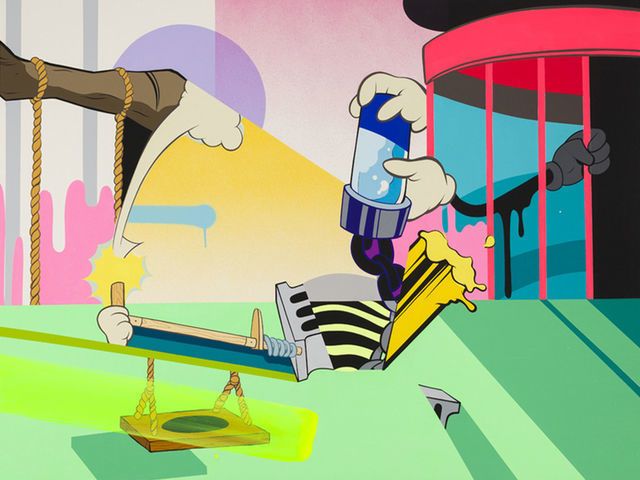 JORDAN NICKEL (POSE), LEMONADE
NOVEMBER 15, 2014
 
Detroit fine art gallery Library Street Collective announces it will host the newest body of work by world-renowned artist POSE (Jordan Nickel). The exhibition, entitled LEMONADE, opens on November 15, 2014 at Library Street Collective's downtown Detroit gallery. The LEMONADE opening coincides with the first-ever exhibition at Public Matter, an outdoor public exhibition located in the Belt, a newly redeveloped alley directly behind Library Street Collective. The Belt also features permanent murals by a dozen international artists including Vhils, Cleon Peterson, Tristan Eaton, Dave Kinsey and Hush. POSE will christen Public Matter with a new body of large-scale work that is entirely separate from LEMONADE.
Since making his transition from the streets to the gallery six years ago, POSE has exhibited work around the world, including recent sold-out exhibitions in New York City and Los Angeles. His upcoming solo exhibitions features 10 brand new paintings and more than a dozen collages that explore the ever-evolving notion of the American Dream and its sometimes tenuous relationship to an experienced American history.

It's neither coincidental nor ironic that the Chicago born-and-bred artist is premiering his newest body of work in Detroit. As POSE notes, "I drew a lot of inspiration from the booms and crashes of American cities like Detroit. Painting for more than half of my life has left me with a wealth of experiences in the failure and triumphs of human beings in these cities. These failures and triumphs are the foundation for this body of work."

The Detroit connection is not lost on Library Street Collective partner Matthew Eaton, who notes "POSE paints stories that resonate well beyond the boundaries of his own experiences or the experience of any particular geography, and yet his newest work feels deeply rooted in a narrative with which Detroit is intimately connected: The American Dream. Library Street Collective is honored to introduce this work to the public right here in Detroit."

For more information or to receive a catalog of available works, please contact info@lscgallery.com.
JORDAN NICKEL (POSE)
Named "One to Watch" by CNN in 2015 as part of their international television series that shines a light on up-and-coming creative talent set to be the next big names in culture, modern pop artist Jordan Nickel (POSE) has been applauded for his inventive ability to take everyday, throw-away things and introduce them into the world to communicate something much deeper. While his work relies on harnessing very simple human emotions like love, loss and triumph, it's presented in a complex union of vivid colors and layered application that aims for something much more profound than what's at the literal, surface level. Having shown works at galleries spanning the globe – including Dubai, London, New York, Detroit and Los Angeles – his diversity as a visual artist is also apparent in grandiose outdoor settings on six different continents. His aim to promote community engagement and outreach has received press from the likes of The New York Times, BBC News, Vanity Fair and Forbes – with notable examples including the Bowery/Houston wall in New York City, the Wynwood walls in Miami, and the exterior of the Museum of Contemporary Art in Detroit, where he and other artists championed visual expression to empower residents to beautify a neglected American city. "My artwork is pretty cut and dried," POSE says. "I'm taking from the world around me – whether it be bits of signs or my wife's old childhood books." His attempt at making sense of the environment around him started with graffiti and has matured into a body of work with multiple dimensions and layers that are a pop blend of illustration, lettering and comic book aesthetics.

PRESS INQUIRIES
Sara Nickleson | Library Street Collective | info@lscgallery.com